Arecont Vision Camera Enclosures by Dotworkz
Arecont Compatible Outdoor Camera Enclosures
This area of the Dotworkz website is dedicated for Arecont Vision. Here, you'll be able to find all Arecont Compatible products from Dotworkz. Products such as the D Series (D2/D3) and S-Type. All compatible Arecont Vision cameras include: AV5155/3155/2155/1355, Surround Video, Fixed Cameras (All), AV8000, AV8185, AV8365. Click here to see complete list at the bottom of the page.
Best security system for city surveillance and extreme climate environments.
Professional grade options for the professional integrator.
Ask an expert – Call (866) 575-4689
Products Available for Use for all Arecont Cameras
Using a Dotworkz D2 or D3 Outdoor Camera Enclosure can give the Arecont AV8185 or Arecont AV8365 an IP68 rating providing the ultimate protection from water and dust.
Arecont Vision WDR Cameras Win Government Security Awards
Posted on June 20, 2013 by Vicki Hoffman
Arecont Vision Takes Platinum and Gold 2013 Govies – The Awards Honor Outstanding Products for Government Security
Los Angeles, California (June 20, 2013) – Arecont Vision, the industry leader in IP megapixel camera technology, won two 2013 Govies Awards for their SurroundVideo® WDR 180° Panoramic camera and MegaDome® 2 WDR camera. The annual awards honor outstanding government security products in a variety of categories.
Some category winners are further awarded platinum or gold designations. The 12-Megapixel WDR SurroundVideo® camera was designated as a platinum winner and the MegaDome® 2 camera was designated as a gold winner within the IP Video Surveillance Camera category. Platinum and Gold designations were announced at the GovSec Conference & Expo, held May 13-15, 2013 at the Walter E. Washington Convention Center in Washington, D.C.
"We at Arecont Vision are pleased to have two of our new products receive this recognition from the judges of the 2013 Govies," said Scott Schafer, Executive Vice President, Arecont Vision. "The response to our WDR products has been exceptional in the security industry due to their versatility, image quality and high resolution. These all-in-one products can certainly benefit many government applications, as well as in other vertical markets like retail, financial, commercial, distribution, healthcare and transportation industries."
Arecont Vision's WDR technology delivers a dynamic range of up to 100dB at full resolution and without lowering frame rates. By combining long and short exposures in the same field-of-view, WDR maximizes the amount of detail in both bright and dark areas of a scene. The WDR performance of Arecont Vision cameras represents up to 50dB improvement (300X) in dynamic range compared to non-WDR cameras.
The MegaDome® 2 WDR camera is available in resolutions of 1080p and 3-megapixels. The 12-megapixel WDR 180° panoramic camera is the world's first WDR panoramic megapixel camera.
Arecont Vision megapixel technology reduces overall system costs by covering larger areas with fewer cameras. Both the SurroundVideo® WDR 180° Panoramic and MegaDome® 2 WDR cameras include dome housings that are IP66 environmentally rated and IK10 vandal resistant. The cameras are ONVIF (Open Network Video Interface Forum) conformant.
The Security Products magazine Government Security Awards were launched in 2009 and re-launched as The Govies in 2011.
The Arecont Vision SurrroundVideo® 12-Megapixel WDR Panoramic Camera won a Platinum Govie.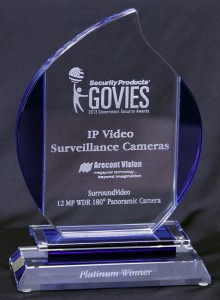 The Arecont Vision MegaDome® 2 WDR Megapixel Camera won a Gold Govie.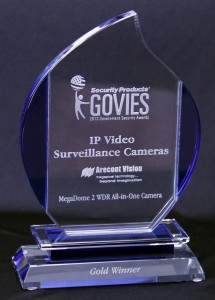 Secure Watch 24 (SW24)
New surveillance cameras to prevent crime in Brooklyn
Assemblyman Dov Hikind (D-Brooklyn) has unveiled Brooklyn's much-anticipated security initiative – an expensive, state-of-the-art system of surveillance cameras designed to protect residents of Borough Park and Midwood. The Leiby Kletzky Security Initiative utilizes the newest advances in surveillance technology to safeguard community residents. The pilot program places high-tech security cameras in strategic places throughout the community allowing for a wide blanket of surveillance.
D Series by Dotworkz
Dotworkz D2 & D3 models: Arecont Vision ready enclosures for ALL indoor or outdoor cameras and most enclosed cameras – Designed for ALL extreme applications.
Windproof your Arecont cameras with S-Type by Dotworkz
Dotworkz S-Type housings: Mega pixel cameras need room for powerful lenses and even NVR's to reach full use potential. S-Type housing include our "strong Arm" stabilization to reduce wind movement and vibration.
NVR's by Dotworkz
Dotworkz XERO NVRs: Powerfull cameras benifit from our ultra fast Intel based open platform XERO NVR.
Designed for Extreme Applications
Each dotworkz product is designed to withstand the harshest environments.
Our COOLDOME ™ product line provides the ultimate solution to extremely hot climates such as deserts and extremely sunny areas. Every COOLDOME™ product can protect your camera and equipment from Extremely High Temperatures. Our trusted 3 Stage Temperature Stabilization System is the reason why no other company can match our protection level for your camera and equipment against the all temperature environments.
Most cameras shut down in extreme heat leaving an area vulnerable without video surveillance (Click here to see what happens when a camera fails under extreme hot climate). The COOLDOME™ keeps cameras operating flawlessly, even when subjected to soaring temperatures and direct sunlight. The solid state cooling system and high-flow fans remove heat without air exchange into the sealed housing, thus controlling humidity that can cause lens fogging and component corrosion.
The COOLDOME™ turns off and on automatically at set temperature thresholds to generate up to a 45° F differential with the outside environment. In addition to preventing thermal shutdown, the lower temperature reduces wear on moving parts as well as damage to mounted wireless components, cell routers, and hard drives.
For more than 13 years, COOLDOME™ has been used in a variety of mission critical applications, including NASA, Military, Police Departments, Casinos, Dams and border security operations.
COOLDOME™ Thermostatically controlled Active Cooling technology
Up to a 45° F differential temperature from outside the COOLDOME™ housing.
Vandal Tough IP66 Outdoor Rated Polycarbonate Thermal Plastic case.
Heavy duty, non metallic, non corrosive, flame resistant protection with lockable cover.
Ideal for Broadcast, Security, CCTV, HD, and 4K Cameras as the controlled climate inside the enclosure allows the camera to operate at it's desired temperature with no risk to overheating equipment.
D2 COOLDOME™ by Dotworkz

Available in the larger D3 COOLDOME™ by Dotworkz
S-Type COOLDOME™ by Dotworkz
Our Ring of Fire product line provides the ultimate solution to extremely cold climates such as the arctic and mountainous areas. Every Ring of Fire product can protect your camera and equipment from climate temperatures that can drop down to -60 degrees F / -51 degrees C. Our trusted 3 Stage Temperature Stabilization System is the reason why no other company can match our protection level for your camera and equipment against the all temperature environments.
The Dotworkz environmental housings brings unsurpassed protection to surveillance cameras from the rigors of harsh outdoor environments, vandalism and physical damage. The Dotworkz Ring of Fire heated interior system will prevent cameras from freezing in climates down to -60°F (-51°C). Extreme cold takes extreme measures – count on the only enclosures with Ring of Fire thermal protection!
By keeping cameras within their safe operating temperatures, the Ring of Fire extends camera life, allows full mobility of PTZ functions, plus keeps cold weather maintenance to a minimum. In addition, the thermostatically controlled heating system with its self-contained power supply can be customized for specialized environmental and equipment needs.
Unlike traditional heated enclosures that normally fog up or ice over, the Ring of Fire features patented de-icing/defrosting circuitry that removes snow and ice that would obstruct the camera's view. Plus, the Ring of Fire housing seals out all moisture, preventing lens condensation and fogging.
Providing consistent climate control assures peak performance of cameras in harsh weather conditions. The Ring of Fire is an essential solution for cameras installed at ski resorts, government facilities, northern border crossings, cell towers and other outdoor applications in cold regions.
Thermostatically controlled De-Icing and Heating element
Extreme Outdoor Weather protection down to -60°F
Vandal Tough IP66 and IP68 Outdoor Rated Polycarbonate Thermal Plastic case
Heavy duty, non metallic, non corrosive, flame resistant protection with lockable cover
All Ring of Fire products have the MVP (Multi Volt Platform) as standard.
65 Watts of De-Icing Power

Ring of Fire

Protection from freezing climates down to -60°F (-51°C)
D2 Ring of Fire by Dotworkz

Available in the larger D3 Ring of Fire by Dotworkz
S-Type Ring of Fire by Dotworkz
Compatibility and Fit Guide for Arecont cameras
Outdoor D2 and D3 Camera protection for Arecont minidome and surround video cameras AV40185DN-HB AV40185DNAV 20365DN-HB AV20365DN AV12186DN AV12366DN AV20185DN AV20185DN-HB AV8185DN AV8185DN-HB AV8365DN AV8365DN-HB D4 SERIES cameras D4S-AV1115DNv1-3312 D4SO-AV1115DNv1-3312 D4S-AV2115DNv1-3312 D4SO-AV2115DNv1-3312 D4S-AV3115DNv1-04 D4SO-AV3115DNv1-3312 D4S-AV5115DNv1-3312 D4SO-AV5115DNv1-3312 MegaDome® 2 Series AV1255PM-SH AV1255PMIR-SH AV1255DN-H AV3256PMIR-SA AV2255AM-H AV2255DN-H AV2255PMIR-SAH AV2255PMIR-SH AV2255PMTIR-SH AV2256DN AV2256PM AV2256PMIR-S AV2256PMTIR-S AV3255AM-H AV3255DN-H AV3255PMIR-SH AV3255PMTIR-SH AV3256DN AV3256PM AV3256PMIR-S AV3256PMTIR-S AV5255AM-H AV5255DN-H AV5255PMIR-SAH AV5255PMIR-SH AV5255PMTIR-SH AV10255PMIR-SH AV10255PMTIR-SH
Mobile protection BASH Housings for Arecont MicroDome® Series AV1455DN-F AV1455DN-S AV2455DN-F AV2455DN-S AV2456DN-F AV2456DN-S AV3455DN-F AV3455DN-S AV3456DN-F AV3456DN-S AV5455DN-F AV5455DN-S
BASH mobile small form factor camera and or S-Type model housings for Static box cameras from Arecont MegaVideo® Compact Series AV5115DNv1 AV1115DNAIv1 AV1115DNv1 AV1115v1 AV1310 AV1310DN AV2110 AV2110DN AV2115DNAIv1 AV2115DNv1 AV2115v1 AV2116DNv1 AV3110 AV3110DN AV3115DNAIv1 AV3115DNv1 AV3115v1 AV3116DNv1 AV3236DN AV5110 AV5110DN AV5115DNAIv1 AV5115v1 AV10115DNAIv1 AV10115DNv1 AV10115v1
Static Box cameras use S-Type only housing models MegaVideo® Series AV1305DN AV2105DN AV3105DN AV3135 AV5105DN AV10005DN
Recommended NVR for Arecont:
Dotworkz Xero
Product Guide
The Dotworkz product line is optimized for wide range of video cameras including all powerful Pan Tilt and Zoom (PTZ), mini dome, fixed, static, IP, as well as the latest HD/Megapixel network cameras.