Sphericam 2 is a Tiny 360 Camera Sporting 4K Resolution, Kickstarter Nears Funding Goal
Sphericam 2 is a 360-degree camera offering 4K video capture in a very small package, and aims to deliver immersive video specifically targeted at VR headsets.
The Czech Republic based team calls their geometric crystalline camera "no bigger than a tennis ball," packing in 6 optimally placed camera sensors into an anodized aluminium package. At a base funding tier price of $1399, the Sphericam 2's Kickstarter project lands squarely on the enthusiast end of the market.
The price may sound prohibitively expensive for most, but then again, so is an array of 4 GoPro Hero4s, let alone the full 16 individual GroPros on Google Jump.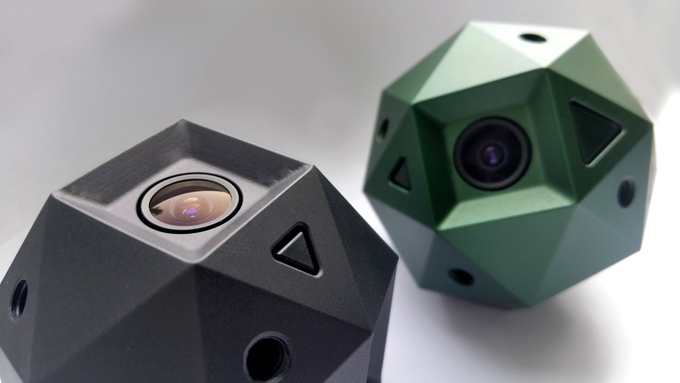 The device promises to deliver an automatically stitched 4096×2048 resolution video at 600 Mbit/sec with 30fps—a decidedly insufficient frame rate for the purpose of VR. But we can't write off this neat little 360 cam just yet, because given the right know-how, 60fps—a frame rate widely considered to be the bare minimum for comfortable VR viewing—can be achieved by manually stitching raw capture files.
The low frame rate is largely due to the device's on-board real-time stitching process, a feature that makes creating the sort of flawlessly cohesive 360 videos a much easier affair. However if the stitching process is offloaded to a computer, a much higher quality video can be taken, which according to the team allows for it to max out at 60 fps at 2.4 Gbps with 12-bit color. Although no mention has been made of what stitching software is recommended for achieving this, the price-point suggests that this camera will mostly find a home in the eager hands of seasoned photographers.
Below is an early sample of a 360 video shot with the device. A version for Gear VR, and Oculus DK1/DK2 owners can be downloaded here. Google Cardboard owners using Android can view the YouTube video natively by following these instructions.
With the ability to stream live 360 footage over Ethernet via a microUSB adapter, Sphericam effectively does double duty as a live broadcast telepresence camera. The addition of on-board WiFi gives the camera the ability to be controlled by the companion mobile app, which lets you start and stop, transfer, view, edit, and monitor the footage while recording.
Here's a quick spec sheet of what Sphericam has to offer:
68mm diameter at <400g
Global Shutter
4096×2048 resolution
6 image sensors/lenses
WiFi button
On/Off button
Micro USB port
GPS for geotagging
8 Tripod Mounts
4 Microphones
6 Micro SD Card Slots
LiPo 2800 mAh battery
60-90 min recording time
Provided the team reaches their $150,000 funding goal, Sphericam 2 is estimated to ship out to backers in December 2015.
Funding Tiers
Pledge $1,399 or more – EARLY BIRD Sphericam 2! Hurry to get this lower price! Color: Green. Comes with protective carrying case. Limited supply – See campaign for details.
Pledge $1,499 or more –

 

Sphericam 2. Color: Green or Black. Comes with protective carrying case.
Pledge $1,699 or more – Sphericam 2. Color: Green, Black, or Silver. Comes with: – Protective carrying case – 2 sets of detachable legs – Magic arm – Bicycle mount – Carbon Fiber Monopod.
Pledge $2,499 or more –

 

(estimated shipping: October 2015) PIONEER Sphericam 2. Camera in Green, Silver, or Black; Comes with: – Protective carrying case – 2 sets of detachable legs – Tabletop Tripod – Carbon Fiber Monopod – Backpack Mount. This is a pre-production version of the camera that will provide the exact same video quality. However, some features will not yet be finished, such as live streaming. Additionally, the camera will not include GPS or the motion sensors.